The mobil-homes
The Bangor campsite can rent 6 mobile-homes which can welcome 4 people (1 room contains a queen bed and a room with two twin XL beds). These mobile homes are rented according to their maximum capacity.
All our mobile homes have a bathroom with a shower, a kitchen (with a microwave oven as well as a fridge), toilets, and garden furniture. The Wi-Fi is available close to the reception desk but there's no tv in the mobile homes.
The bathmat and dish towels are included in your rental but if you wish to get bed sheets, the bed sheets for a queen bed are 7.25€ and the bed sheets for a twin bed are 3.70€.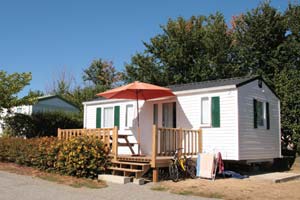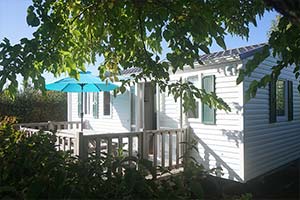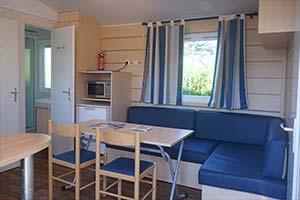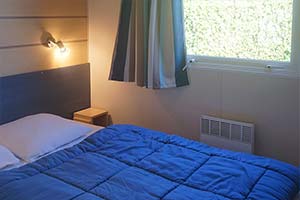 The cabins
The Bangor campsite also can rent 4 cabins, they can fit two people maximum. There are two sizes: 9m2 or 15m2.
The cabins include a room with heating, a queen bed (the covers, pillows, bedsheets are included in the price of the rental), one table, 2 chairs, a lamp, a kettle with a kit to make hot beverages and a small fridge (the fridge can hold 46L in the small cabins, and 130L in the big cabins).
The sanitary facilities (toilets, shower and sink) and the launderette are in the campsite and free to use.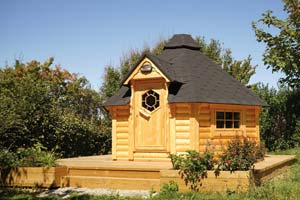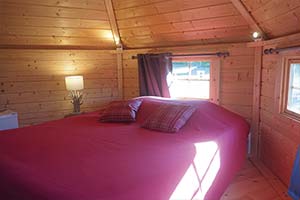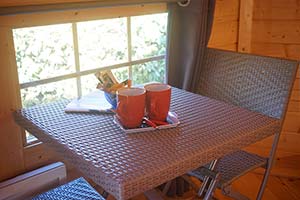 For the mobile homes and the cabins, you can arrive at 5 pm and you must leave before 10 am, but it's possible to adjust these hours depending on the number of people expected next. You can ask for more information with the reception team (+33 (0)2 97 31 89 75 or Cette adresse e-mail est protégée contre les robots spammeurs. Vous devez activer le JavaScript pour la visualiser.).
You can park your car on the camping spot.
Through these links, you can check out the rates, the general rental conditions and the internal rules of the campsite.
Map of the campsite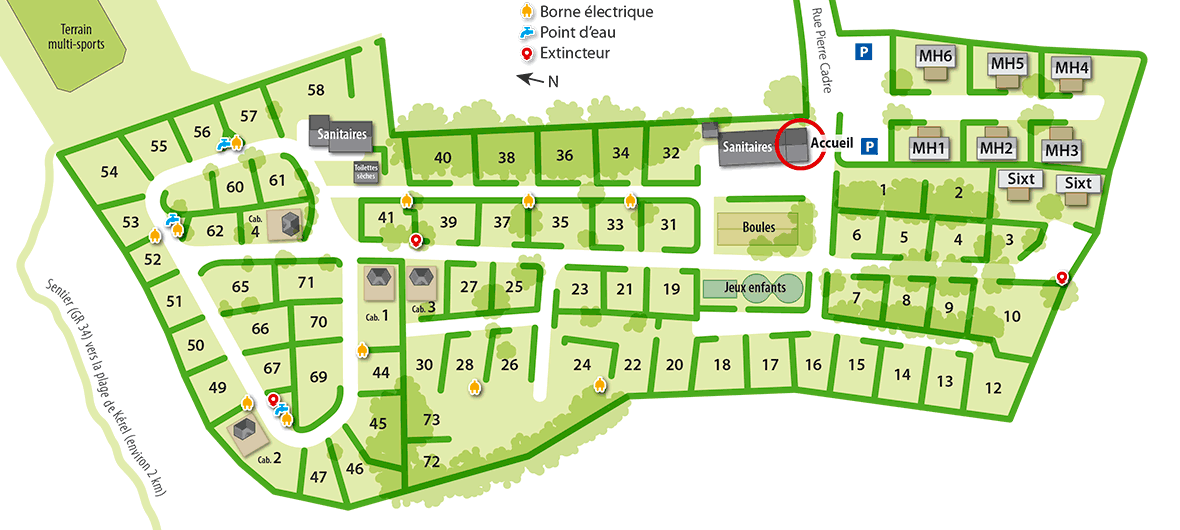 Services and options

The wifi is available in the lobby, next to the front desk.
The campsite offers a washing machine, a dryer, a playground for children, a game of bowls, and an ice delivery…
Close by
The campsite is close to the wild coast: you can access the Kérel beach and the hiking trail by foot through the "Stang Per" path (it's about 2 kilometers long).
In the city, you'll find:
(click on the map to make it bigger)
a minimarket Proxi : +33 (0)2 97 31 33 67,
a bar: the Cabestan (where you will be able to enjoy breakfasts and/or small catering): +33 (0)2 97 31 33 67,
a crêperie: Chez Renée: +33 (0)2 97 31 52 87,
a café-bookshop: La Veilleuse, located next to the church:+33 (0)2 97 31 31 11,
a bike rental: Au Numéro 1: +33 (0)6 24 37 12 18,
you can also rent bikes and have them delivered to the campsites. For more information,
a bus stop where the regular bus lines stop. You can find the whole schedule and some information here,
a playground for children,
a multi-sports field,
charging stations for electric bikes and cars,
La Bagagerie (left-luggage office and luggage transferts) - Le Palais : 06 73 85 36 92.